The Princess of Wales burst into a fit of giggles when a lifejacket she was wearing suddenly inflated during a visit to a Royal Navy air base.
Kate, who is Commodore-in-Chief of the Fleet Air Arm, erupted in laughter as she was being shown around Royal Naval Air Station (RNAS) Yeovilton in Somerset – one of the busiest military airfields in the UK.
During the visit, the princess spent time in the air traffic control tower and spoke over the radio with the crew of a Wildcat helicopter as it came in to land.
She also heard the roar of an F-35B Lightning from RAF Marham as it "buzzed" the control tower.
Kate, who was wearing a dark jacket, white blouse, dark trousers and dark heels, was also shown around a Merlin Mk4 helicopter, which is used by the Royal Marines, and a Merlin Mk2, which hunts submarines.
It was during an exercise with rescue and survival equipment that she tried on the lifejacket and was surprised at how quickly it inflated.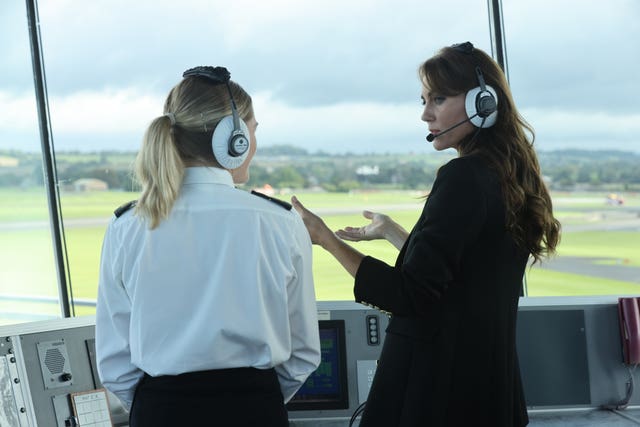 Louise Evans-Hughes, a leading survival equipment technician, said she knew exactly what was going to happen the moment the lifejacket inflated.
Speaking afterwards, she said: "I told the princess there might be a bit of a bang because sometimes when the Velcro rips open there is a bit of a noise.
"I think that was why she was a bit apprehensive to pull it. As soon as she pulled it, it inflated.
"I gave the princess the option whether she wanted to put it on or whether one of my colleagues would put it on.
"I didn't know if she would or not, but it was really nice that she got hands-on and got really engaged in what we do and making the kit work."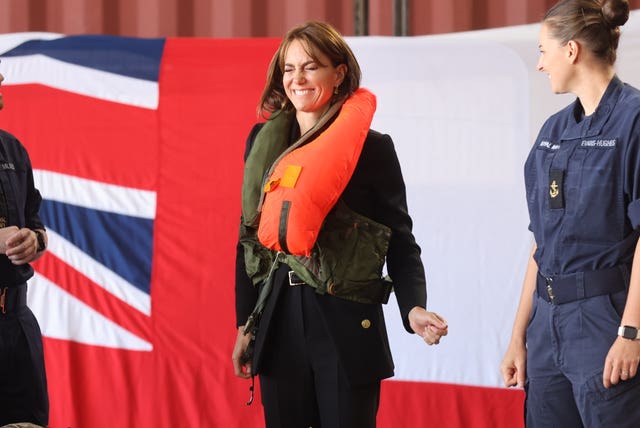 Describing the princess's reaction to the lifejacket inflating, she said: "I see it a lot when we train the air crew pilots so it's something that I see all the time so I knew what was going to happen and it was quite nice to watch her face.
"I think afterwards she said it was quite snug and didn't realise how big it was going to go and I quickly let some air out so she wouldn't be uncomfortable."
The 32-year-old servicewoman, who is originally from Bath, said Kate is the first member of the royal family she has met.
"The princess was really engaged, really excited and asking loads of questions, which is quite nice," she said.
"(I) Think, for me, every day that you become a bit immune to what you do. It's nice to be remembered and some of the things that you're doing."
She said she did not have any nerves until seconds before she was introduced to Kate.
"It sort of just hit me. I was thinking about saying 'Good morning, Ma'am' but she was just so engaging and lovely, as soon as she started talking to me I was really put at ease."
For the final leg of her visit, the princess visited the Wildcat training centre and assisted the crews who were being trained to load the anti-shipping Sea Venom missile on to the Wildcat Mk2 helicopter.
Kate then tried her hand at flying a Wildcat Mk2 in a simulator, which allows air crew to practise flying over land or on to ships.
The maritime attack helicopter is designed to operate from the frigates and destroyers of the Royal Navy.
The King went to the air station for helicopter flying training in 1974, when he was Prince of Wales.
More than 4,000 personnel are employed on the site, which is home to a number of frontline squadrons and training units.
Captain Duncan Thomas, RNAS Yeovilton's commanding officer, said afterwards: "I am delighted and privileged to have welcomed the Princess of Wales to the Royal Naval Air Station Yeovilton, at the start of what I am sure will be a long and rewarding relationship in her capacity as Commodore-in-Chief of the Fleet Air Arm.
"We've all been hugely excited by this opportunity and I am delighted that Her Royal Highness will be able to support and inspire our exceptionally talented sailors, air crew and wider workforce family for years to come."